Products
DOSI-FUSER® MULTIFLOW Infusion Pump
---
DOSI-FUSER® MULTIFLOW allows to select the required flow rate.
Specially designed for postoperative pain management.
The combination of different DOSI-FUSER® volumes and the MULTIFLOW solution meets the requirements for pain management.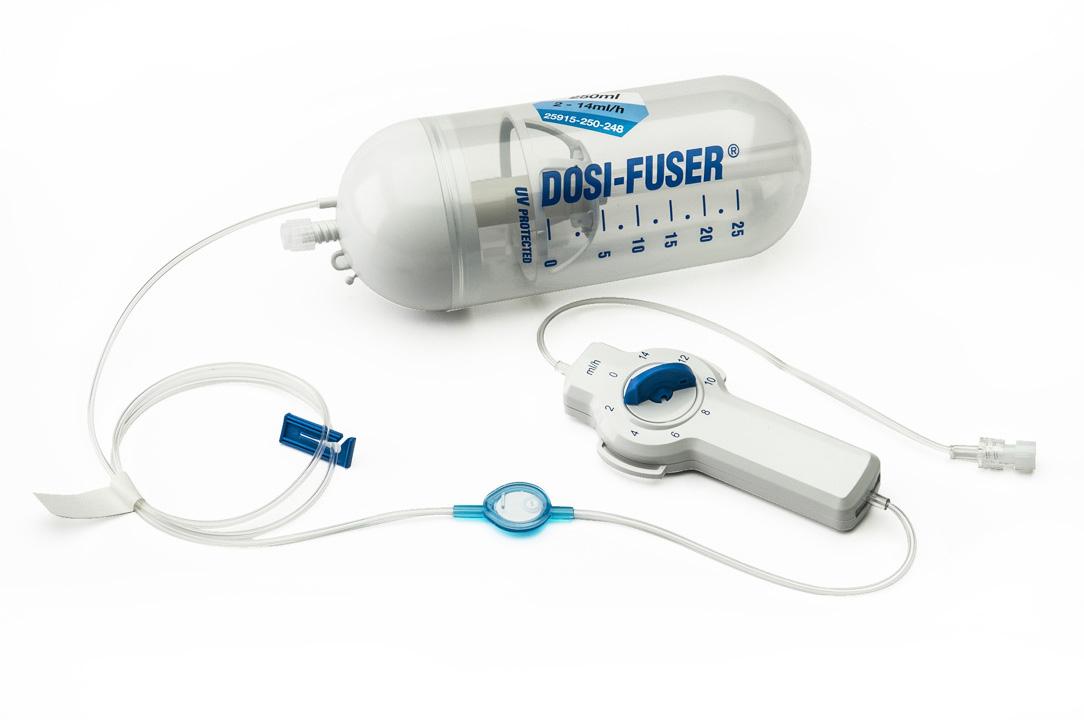 Security and Confidence in the administration of solutions and drugs
---
Therapy Flexibility
Freedom to adjust the infusion rates allowing the physician to customize the patient's pain management protocol.
It offers seven flow rates that can be selected for patient/physician needs: from 1ml/h to 7ml/h and from 2ml/h to 14ml/h.
Controlled Access
Safe lock with removable key provides flow control only to selected individuals.
Exclusive MULTIFLOW element designed by Leventon

You can select one of the seven positions on the MULTIFLOW element. Based on the DOSI-FUSER Capillary Element technology this device gives good accuracy of the outlet flow rate. Choose from 1 to 7ml/h, or from 2 to 14ml/h.

Removable key for the caregiver

The blue Key allows the caregiver to choose the best flow rate for the patient pain therapy. The Key is removed to avoid patient access. The flow rate could be increased or decreased at any moment by using the key on the Multiflow element.

Full range

DOSI-FUSER MULTIFLOW is available in a wide range of volumes like 100, 250, 400, and 600 ml. Two MULTIFLOW elements are available: from 1 to 7ml/h in steps of 1ml/h, and from 2 to 14ml/h in steps of 2ml/h.
Contact us
---
Please contact us directly via telephone or with the following form.
TEL. +34 93 817 63 00